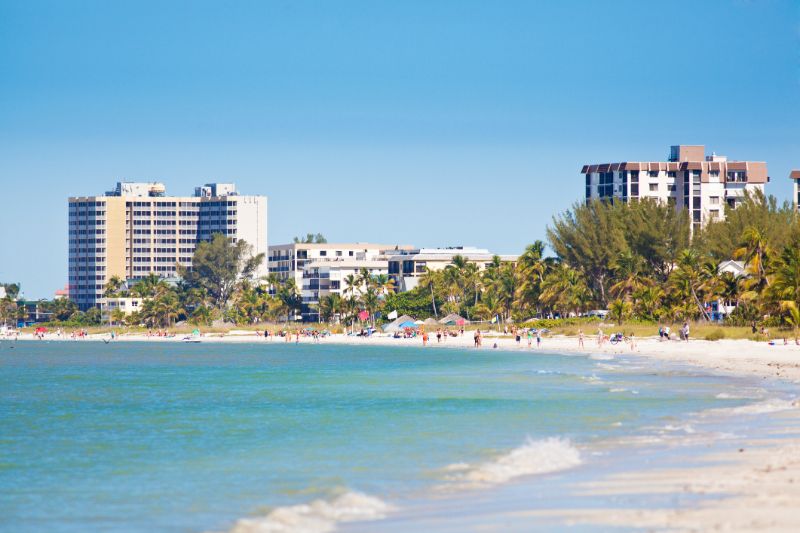 The white sands of Fort Myers Beach, stretching for a seemingly endless seven miles, have been drawing visitors to the area since the early 20th century. Nestled on Estero Island off the coast of Fort Myers, this laidback beach town is brimming with Old Florida charm and offers plenty of things to do year round.
Fort Myers Beach is connected to the mainland by two bridges – the Matanzas Pass Bridge on the northern end and the Big Carlos Pass Bridge on the southern end. The former also connects to San Carlos Island, while the latter leads to Lovers Key State Park and Bonita Beach. Nearby are the islands of Sanibel and Captiva.
With a total area of just over six square miles (over half of which is water) and a population under 6,000, Fort Myers Beach has a size that's just right. It's compact and easy to get around in while at the same time offering a wide range of businesses, services, and recreational options.
Like many communities in Southwest Florida, tourism is the main driver of Fort Myers Beach's economy, which means the population typically increases during the popular winter and spring months. Other main industries include healthcare, retail, and educational services.
Things to do in the area range from kayaking and going on fishing charters to shelling, parasailing, and learning more about marine life at the Marine Science Center. There's a varied selection of bars, restaurants, and hotels, almost all of which will have spectacular views of the ocean or Estero Bay.
Housing in Fort Myers Beach comes in many shapes and forms. You can opt for a townhouse, a compact home with a lake view, a penthouse condo unit right on the beach, a sprawling gulf-front residence that you can turn into a rental, and more. We'd love to help you find the right home here.