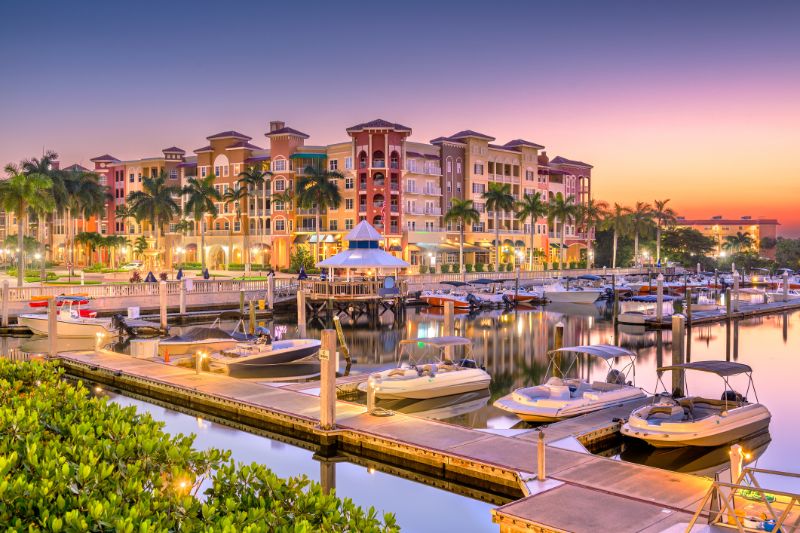 The crown jewel of Southwest Florida's Paradise Coast, the city of Naples is a sophisticate's beach escape. It's exclusive yet welcoming, upscale but relatively low-key, and always serenely beautiful.
Situated right on the Gulf of Mexico in western Collier County, Naples boasts pristine, white-sand beaches, an abundance of golf courses, a thriving cultural scene, and unbeatable shopping and dining. The city is home to a population of just under 20,000 (as of the 2020 census) and encompasses a total area of more than 16 square miles, a quarter of which is water.
You will never run out of things to do in Naples. Love the beach? Explore Naples' famed over-ten-mile-long stretch of sand, which includes the hidden gem that is Clam Pass Park, a 35-acre coastal habitat preserve. If you'd rather be in or on the water, there are plenty of diving, boating, and fishing opportunities in the area. Naples has great fishing year round and you can fish from a boat, the shore, or the historic Naples Pier.
If golf is your game, then you'll love the fact that Naples is the "Golf Capital of the World." The city anchors a region with 90 18-hole courses, including the Greg Norman-designed courses at Tiburón Golf Club, home to the PGA's QBE Shootout and the LPGA's CME Group Tour Championship.
Art lovers will want to check out Artis—Naples, the cultural heart of Southwest Florida and home of the Naples Philharmonic and the Baker Museum. Or you can go gallery hopping in downtown Naples and explore the array of shops and restaurants along the city's storied Fifth Avenue South.
The housing market in Naples is as diverse as its attractions. Choose from sprawling, palm-tree-shaded estates in Old Naples, plush waterfront condos in Park Shore, or golf homes in Bear's Paw. Each of the city's neighborhoods will have its own distinct flavor, and we look forward to helping you explore your options here.