What's inside:
---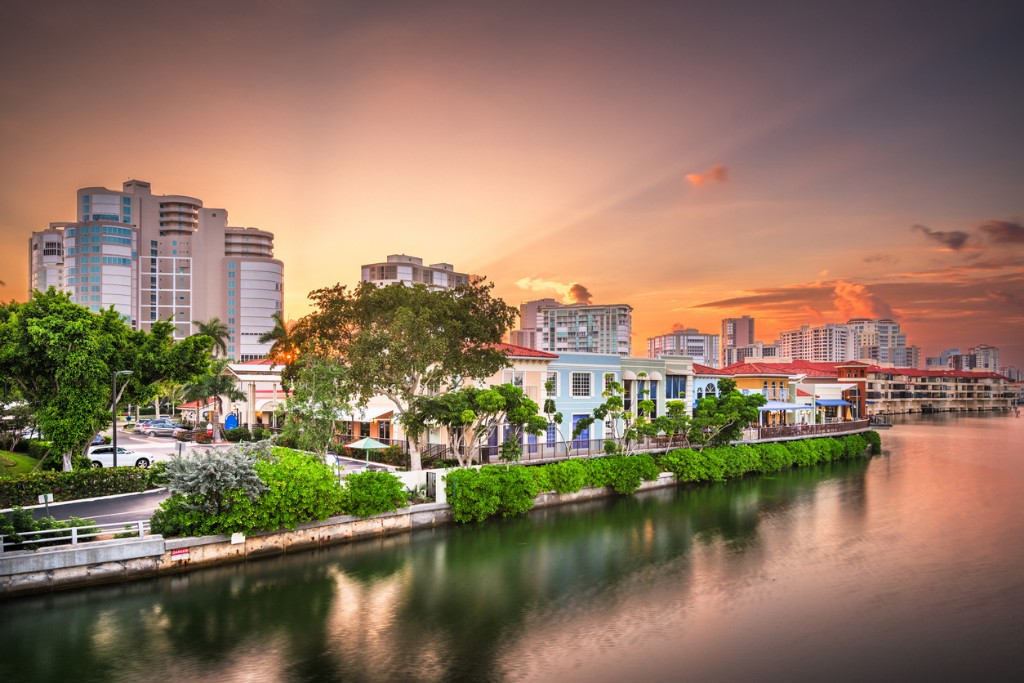 Nestled along the coast of southwest Florida, the beautiful city of Naples is a top-rated tourist destination famous for its upscale shopping centers, world-class restaurants, vibrant cultural venues, and picturesque white-sand beaches.
While Naples does have its fair share of glitzy, high-end establishments, the city has managed to retain a laid-back tropical vibe, making it an excellent choice for anyone looking forward to enjoying an unforgettable vacation in the Sunshine State.
Planning to visit Naples, FL? You've come to the right place! On this page, you'll get an insider's look at some of the best activities, attractions, and must-visit hotspots throughout the city. We'll provide a few helpful travel tips as well, along with information on Naples, Florida vacation rentals to help make your stay seamless and stress-free.
Top Attractions in Naples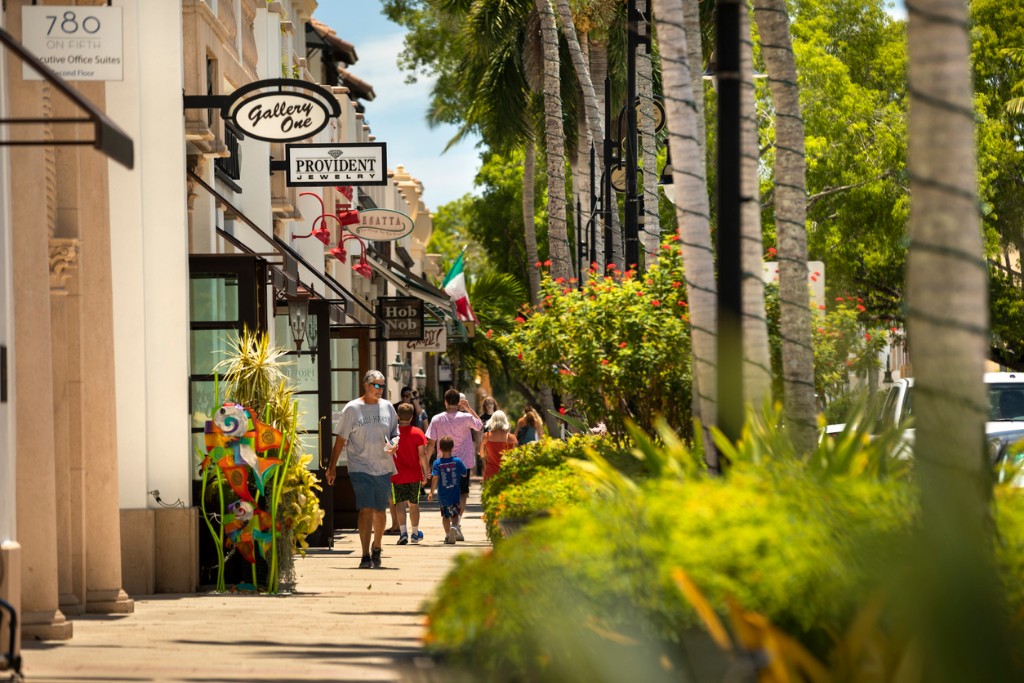 The Beaches
Naples features some of the best beaches in the Sunshine State, with its sun-kissed white sand shores surrounded by the Gulf of Mexico's turquoise waters. What makes beaches in Naples unique is they can be found in different locations such as nature preserves, county parks, and state parks, which gives every beach its own look and feel.
Most of the beaches also feature gentle waves and shallow water levels extending far from the shoreline, which makes them safe and enjoyable for small children.
Here's a quick look at some of the most popular beaches in the city:
Naples Pier Beach is one of the city's most iconic destinations, with its pristine white sands, array of waterfront restaurants, and lively atmosphere. Although it probably gets the most amount of visitors out of all the beaches in Naples, it doesn't get too crowded, as there's a vast amount of space and a wide variety of amenities for everyone to enjoy.
You can relax in the sun, go for a refreshing dip in the ocean, join a fun game of beach volleyball, or enjoy a relaxing walk while taking in majestic views of the sunset. The vibrant 3rd Street is also located a short walk away from the beach, which gives beachgoers easy access to a nice selection of shops and restaurants.
The beach at Clam Pass Park has a very relaxed and laid-back atmosphere and is located within an expansive 34-acre preservation filled with interesting wildlife and coastal vegetation. There's a nice boardwalk that leads to the beach, perfect for leisurely strolls while soaking in the panoramic views. You can also get to the beach by taking the tram, which is free to use and available daily from 8 am to sunset.
Located north of downtown Naples, Lowdermilk Park is home to one of the city's top beaches, highlighted by an expansive beachfront park filled with amenities including gazebos, BBQ areas, picnic tables, volleyball courts, a playground, and restrooms.
Lowdermilk Park is also a popular destination for marine wildlife enthusiasts during the summer, as many dolphins and turtles can be spotted just off the beach just after sunrise.
Barefoot Beach Preserve is one of the most pristine beaches in the Naples area and is a popular destination for nature lovers. The beach encompasses over 340 acres with a 1.5-mile shoreline, with sugar-fine white sands set amidst sea oats swaying along with the gentle breeze.
Barefoot Beach Preserve is the perfect place for sightseeing. Head to the southern end and take in sweeping views of the Delnor-Wiggins Pass State Park just across the waterway, or enjoy a relaxing walk on its mile-long boardwalk, which winds through a gorgeous marine forest home to a variety of local wildlife.
Golf
Avid golfers will be able to enjoy an unparalleled golfing experience at the many world-class golf courses in Naples and throughout Collier County.
Looking forward to hitting the fairways and greens? Here are some of the top-rated golf courses in Naples:
Tiburon Golf Club
2620 Tiburon Dr, Naples, FL 34109
Tiburon Golf Club is home to two exceptional 18-hole championship courses which host prestigious tournaments such as the LPGA CME Group Tour Championship and the Franklin Templeton Shootout from the PGA Tour.
The two courses boast unique features such as coquina shell bunkers and are designed by renowned golf course architect Greg Norman, providing an unforgettable playing experience for golfers of all skill levels.
TPC Treviso Bay
9800 Treviso Bay Blvd, Naples, FL 34113
TPC Treviso Bay features a seamless balance between innovation and time-honored golfing tradition. This excellent 18-hole course features impeccably maintained fairways and greens, gorgeous vistas, and an array of amenities, and is part of the PGA Tour's renowned TPC network of clubs.
Naples Grande Golf Club
7335 Premier Dr, Naples, FL 34105
Ranked one of America's top resort courses, Naples Grande Golf Club is an acclaimed private course located minutes away from downtown Naples. Their par 72 championship course is designed by award-winning golf architect Rees Jones, offering a challenging and exhilarating experience for golfers.
Hole-In-The-Wall Golf Club
3690 Goodlette-Frank Rd, Naples, FL 34105
Established in 1957, Hole-In-The-Wall Golf Club is set on nearly 50 acres of wetland preserves that are dedicated to conservation easement. This creates a scenic natural setting highlighted with subtropical landscaping and unique water features that incorporate indigenous foliage.
Grey Oaks Country Club
2400 Grey Oaks Drive North, Naples, FL 34105
Grey Oaks Country Club holds the distinction as the only club in Naples featuring three world-class championship courses, offering 54 award-winning holes of golf. Each course is designed to challenge players to take their game to the next level as they navigate through meticulously groomed fairways set along tranquil lagoons and groves of soaring oak, pine, and cypress trees.
For golfers looking to put their skills to the test, Grey Oaks' legendary Pine Course was included in Florida Trend Magazine's list of "Toughest Private Golf Courses in Florida."
Restaurants
Naples boasts a diverse range of incredible dining venues that are guaranteed to please the palates of even the most discerning food critics. Whether you're in the mood for a hearty brunch, a quick bite after a day at the beach, a romantic dinner, or delicious bar food while enjoying the game, the city's assortment of restaurants has you covered.
Here's a list of some of the must-visit dining spots for you to check out:
BALEEN Naples
9891 Gulf Shore Dr, Naples, FL 34108
239.598.5707
BALEEN Naples is an award-winning restaurant that offers a first-class culinary experience together with breathtaking views of the beach and the Gulf.
Located within the luxurious LaPlaya Beach & Golf Resort, BALEEN has been a top destination for locals and tourists craving delicious cuisine and spectacular views of the sunset.
Osteria Tulia
466 5th Avenue South, Naples FL 34102
239.213.2073
If you're in the mood for rustic Italian cuisine, Osteria Tulia is the place for you. Located inside a restored Italian-style farmhouse, the restaurant treats diners to an authentic centuries-old Italian osterie tradition of serving homemade specialties and regional wines in a village tavern setting.
Treat your taste buds to masterfully crafted dishes prepared by Sicily-born Chef Vincenzo Betulia. Be sure to order bestsellers like their wild striped branzino, francobelli pasta, or heritage pork osso bucco, which all pair nicely with their extensive selection of wines, beers, and craft cocktails.
Ej's Bayfront Café
469 Bayfront Pl, Naples, FL 34102
239.353.4444
Considered by many locals as one of the best breakfast and brunch spots in Naples, EJ's Bayfront Café treats diners to a menu filled with tasty breakfast dishes like crab and shrimp omelet, bacon benedict, and banana-stuffed French toast platter.
Owned and operated by Chef Eric J. Becker, EJ's Bayfront Café has been the recipient of numerous awards and accolades since it opened in 2012, including "#1 Breakfast, Brunch, and Lunch Restaurant in Naples" from Yelp and "Best American Restaurants in Naples" from TripAdvisor.
If you want to start off your day off with a delicious breakfast, a piping-hot cup of Columbian coffee, while enjoying the refreshing breeze wafting from Naples Bay, EJ's Bayfront Café is the perfect place to visit.
Breweries
For beer lovers, Naples is home to a wide selection of bars and breweries serving an extensive selection of local craft beer and beers from different parts of the world on tap.
If you're pining for a pint, here are some of the best breweries to check out in Naples:
Bone Hook Brewing Company
1514 Immokalee Rd. Unit 106, Naples, FL 34110
239.631.8522
Opened in October 2018, Bone Hook Brewing Company is one of the newest breweries in Naples. What started as a beloved hangout spot brewing excellent beers has now evolved into a popular brewpub with over 20 unique craft beers produced on-site. Their beer selection includes a range of styles, from American and Belgian pale ales, American IPAs, stouts, a German weissbier, an English golden ale, a variety of saison ales, and more.
Their award-winning beers pair nicely with their menu, which includes pizza, fish tacos, burgers, ribs, and several appetizers.
Naples Beach Brewery
4120 Enterprise Ave #116
Naples, FL 34104
239.304.8795
Nestled within an industrial area close to Naples Airport, Naples Beach Brewery is a microbrewery with over 30 beers on tap, including ales, porters, IPAs, pilsners, and more. Established in 2012, this brewery is known for their high-quality selection features a mix of traditional beers and unique brews.
Some of their most popular beers include the Naples Classic, a hybrid ale, the Line Dropper, a ginger and mango American ale, and the Triple C, a delicious full-bodied coffee stout.
Riptide Brewing Company
987 3rd Ave N Naples, FL 34102
239.228.6533
Started in 2015 by a trio of friends who wanted to turn their passion into a profession, Riptide Brewing Company is now one of Naples' top-rated craft breweries. The brewery is located close to the beach and the scenic Tamiami Trail, making it a popular location for locals and visitors looking to unwind after spending time outdoors.
Riptide offers over 12 beers on tap, along with a variety of ciders, hard seltzers, and an extensive wine list. Although the brewery does not serve food, guests can grab a bite from food trucks occasionally parked just outside (be sure to check their events calendar for the food truck schedule).
Travel Tips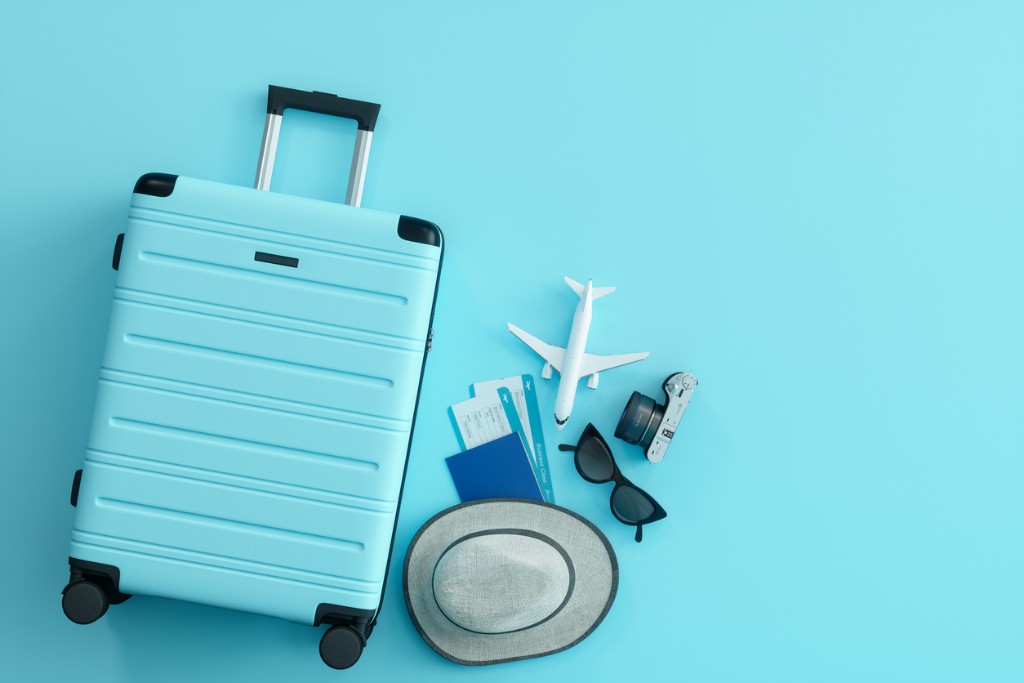 Getting to Naples
The Naples Municipal Airport is served by several major airlines such as ExecAir, PM Airways, and Gulf Coast Airways, which offer flights to and from major Florida destinations like Miami, Fort Myers, Fort Lauderdale, and Key West.
You can also reach Naples by flying to Southwest Florida International Airport, which is located in Fort Myers, FL. From here, it's only a short 45-minute drive on the I-75.
If you're heading to Naples from Miami, the city is roughly two hours away on the US 41, also known as the Tamiami Trail. The route passes through the enchanting Everglades National Park, so you may want to consider stopping by as you make your way towards Naples.
The Weather
Naples is blessed with warm, sunny weather throughout most of the year, with an average of 264 days of sun annually. June to September marks the rainy season, and the city gets an average of 54 inches of precipitation each year.
August is the hottest month in Naples, with temperatures averaging highs of 89°F and lows of 76°F. January is the coldest month of the year, with average lows reaching 57°F and highs of around 74°F.
Getting Around Naples
The best way to navigate the city of Naples is by car. Old Naples or the city's downtown district, however, can be explored on foot if you want to visit its many shops, restaurants, and attractions.
If it's your first time in Naples, we recommend Naples Trolley Tours, a hop-on, hop-off fully narrated tour on a vintage trolley, which covers more than a hundred points of interest throughout the city.
Naples, Florida Vacation Rentals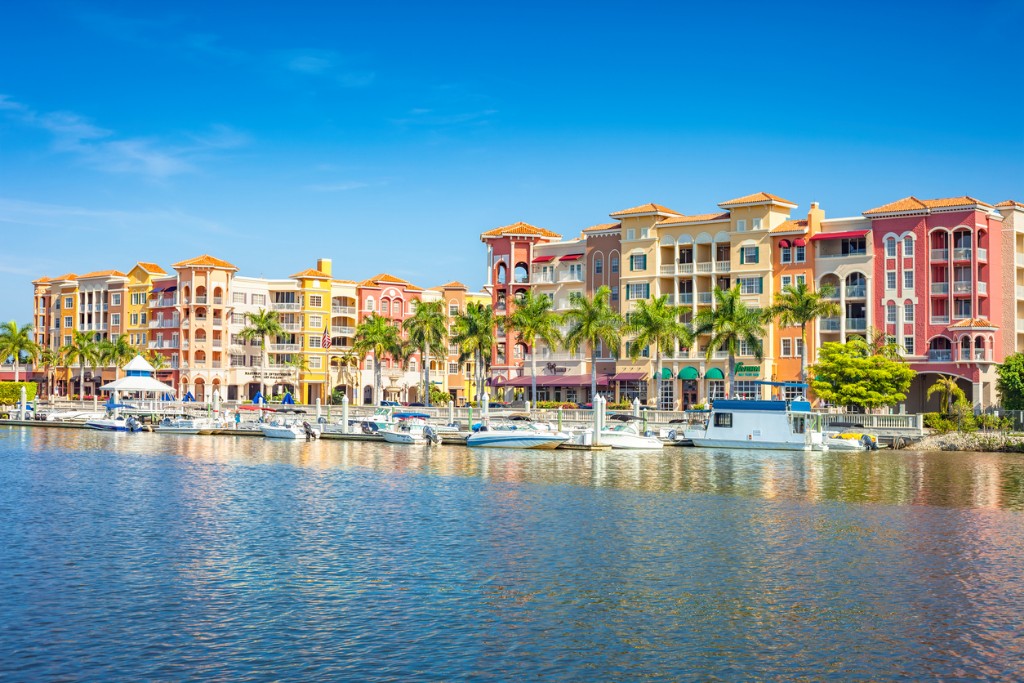 Vacationers will be able to find a wide selection of Naples, Florida vacation rentals that can accommodate any type of need, preference, length of stay, or budget.
Whether you're visiting Naples for a week, an entire season, or searching for the finest long-term rental properties, here's an overview of the different types of vacation rentals you can find in Naples, Florida:
Beachfront Homes
Beachfront homes are the perfect choice for visitors looking to enjoy a laid-back vacation right by the beach. Wake up to soothing sounds of waves crashing on the shore, relax on the fine sun-soaked sands, and enjoy al fresco meals together with views of the sunset – you get all these and more by renting a beachfront home in Naples!
Most rental beachfront homes in Naples boast first-class features such as:
Private beach access
Stylish and spacious interiors
Fully furnished and stocked kitchens
Private or community swimming pools
Patios and lounge areas highlighted by breathtaking views of the water
Recreational amenities like volleyball/tennis/bocce ball courts, fishing piers, and watersport equipment rentals
High-speed Wi-Fi, HD televisions, and other features
Pet-friendly services and amenities
Luxurious Estates
Enjoy your next vacation in style by renting an impressive Naples estate right by the Gulf of Mexico! Or if you're in search of a different type of experience, many luxurious rental properties are also located within Naples' prestigious country clubs such as Collier's Reserve Country Club, Naples Lakes Country Club, and Royal Wood Golf & Country Club.
These luxurious rental accommodations are perfect for vacationers looking forward to enjoying the finest Naples lifestyle and are great for those planning to host parties, reunions, and other celebrations for large groups.
Condos
One of the most common types of Naples, Florida vacation rentals are condos and apartment rentals. The average size of these types of rental properties is 1,340 square feet, and can typically accommodate two to five guests.
Many Naples condo rentals are equipped with a range of features and amenities designed to make your stay as enjoyable and comfortable as possible, such as:
Easy access to the beach
Expansive, balconies, patios, and lanais surrounded by gorgeous views of the Gulf of Mexico
Kitchens stocked with local ingredients
Close proximity to Naples' top attractions and destinations
High-definition TVs
High-speed Wi-Fi
Dedicated parking areas
Pet-friendly amenities
Highlighted Naples Rental Listings
Find the finest Naples, Florida vacation rentals today by taking a look at our selection of exclusive listings!
https://bestnaplesfloridarentals.com/homes-for-sale-featured/
Choose from the best selection of Naples, Florida vacation rentals today!
Looking forward to your dream vacation in Naples? Find the finest Naples, Florida vacation rentals with Best Naples Florida Rentals! Just visit BestNaplesFLRentals.com to browse the best rentals available. Or if you're planning to live in Naples full-time, can get in touch with our Naples real estate experts over at Achieve Realty by visiting KeysToParadise.com
Our team has specialized in sales and rentals in Naples for over 22 years and has established a reputation for delivering honest, reliable, and efficient real estate service. We are dedicated to helping you find the right property so you can make memories that last a lifetime in one of the most incredible vacation destinations in Florida.
Get in touch with our team of experts at Best Naples Florida Rentals today! Call us at 239.253.5446 or send us an email at jack(at)keystoparadise(dotted)com